Carlinkit 5.0 2Air Wireless CarPlay Android Auto Wireless Box Two-Dual Adapter 2-Channel Work Waze Spotify 5.8Ghz WiFi BT Siri GPS Auto
Regular price
$169.99 USD
Sale price
$94.00 USD
/
---
In stock, ready to ship

Inventory on the way
New Release CPC200-2Air----- CarPlay Adroid Auto Wireless Adapter

CarlinKit 5.0 2air newest wireless car adapter for android auto and CarPlay. It can convert wired Android auto or wired Apple CarPlay to wirelessly.

seamlessly switching the functions of your phone to your car screen.easy to play music, get navigation, or listen to music,it also support Voice Control, Siri,Google Assistant etc.

Product Feature

⭐Plug and play, non-inductive connection, say goodbye to wired constraints

⭐Wireless Automatic Connection,After completing the initial pairing, 2Air will record your phone data and automatically connect to your Smart phone the next time you get in the car.

⭐Low power consumption design ensures that the product can run stably in different environments.

⭐Adopt authentication and 5.0~5.8Ghz data transmission , data transmission speed faster and low latency

⭐Support OTA upgrade, online feedback, solve problems quickly

⭐Compatible with the original car microphone, continue the original car sound quality,Retain the original car operation,such as touch screen ,steering wheel control and knob control etc.

⭐ Wide Compatibility,Support iPhone with iOS 10 or above or Android phone with Android 11 or above system, iphone work for wireless CarPlay ,Android phone work for Android auto

⭐Mini size,Does not take up space and is easy to hide
Warm reminder:
To solve the problem that Android phones cannot access 192.168.50.2, here's come with AutoKitools. It is suitable for CarlinKit 2air/A2A/CP2A. It is easy to use and convenient for Android phones to access the product setting page.
Download tutorial:
Log in the carlinkit.com-Autools.html-Download and install the APK.
Open the AutoKitools app and connect to the box's WiFi in the list of available devices, which is named "autokit***".
In the new page, you can upgrade, modify settings, give feedback, etc.
Video instruction: https://youtu.be/SU1xzIvjTUc
Supported Mobile Phones & Vehicles

Supported car models: Car with original wired CarPlay or wired Android Auto function
iPhone: iPhone 6 and above, iOS 10 and above versionAndroid phones: support Android 11.0 and above version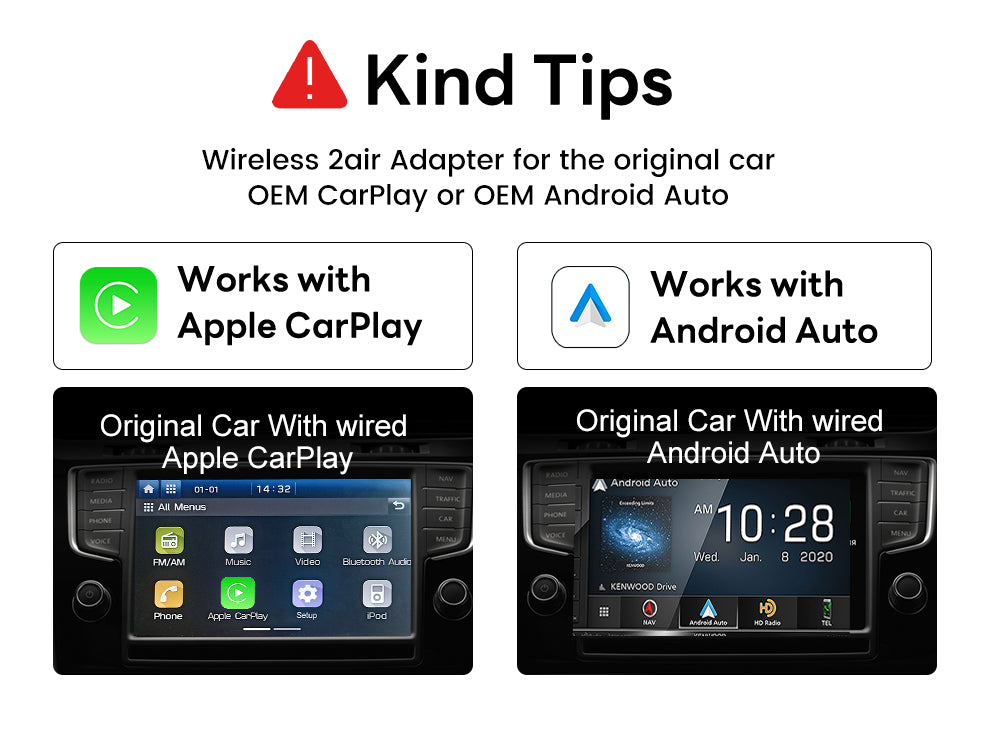 Plug and Play ,Easy to Use

Just simple 3 steps, After the first setup, our adapter will automatically activate the Android Auto or CarPlay wireless connection every time the car starts. Enjoy setup it up once and for all.
Non-inductive automatic connection

Automatically identify the connection and enter the carplay or Android auto navigation system, making travel one step faster
5.8Ghz transmission rate, faster and more stable

Adopt 5.8Ghz wireless module, less susceptible to interference, faster mobile phone connection ,Support dual-band wifi connection, 2.4Ghz and 5.8Ghz wifi all can be used
Non-destructive upgrade

Retain all the functions of the original car, no need to change driving habits, travel safer
Only 3 steps to complete the connection

①Insert the adapter into the car's USB port

②Open WiFi and Bluetooth on iPhone/Android phone,enter the Bluetooth interface of the iPhone/Android phone, connect the Bluetooth signal of the product: Autokit_xxx.

③Once the Bluetooth connection is complete,just wait for the car to automatically connect to wireless CarPlay/wireless Android Auto
Support Online upgrade and feedback

①Insert the adapter into the car's USB port
②iPhone/Android phone connected to product WiFi
③Enter 192.168.50.2 with the browser that comes with your iPhone/Android phone to enter the background.Click"Check Update"
④Click"Feedback"Send the screenshot of the contents to customer service

*(Note: please make sure your phone is connected to the mobile network)
Product Specs:
CPU:Atmel AT91SAM9260
Power Output:DC 5V±0.2V 1.0A
Power Input:5V±0.2V 1.0A
Power Consumption:0.75W
WiFi Module:BCM8335
MFI:MFI 3959/MFI 3989
Bluetooth Version:4.1
Antenna:3 dbi built-in FPC antenna
Material:ABS + PC
Pressing Method:Buckle locking
Colour:Black
Surface Treatment:CD pattern
Supported Mobile Phones:
iPhone :iPhone 6 and above, iOS 10 and above version
Android phone : Android 11.0 and above
Supported Vehicles:Car with factory wired CarPlay or wired Android Auto
Resolution:Adaptive (maintain the original protocol resolution)
Language:Automatically switch according to the vehicle language environment
Port:LED light、TYPE-C female port, USB female port
Date Cable: USB-A to USB-C*1 USB-C to USB-C*1 L=300mm
Product Size:76×43×12.3mm
Package Dimensions: 115×80×36mm
Supported brands and manufacture years
(Vehicles must come equipped with factory CarPlay or Android Auto)
Abarth 2017-2023
Acura 2017-2023
Alfa Romeo 2018-2023
Audi 2017-2023
Aston Martin 2017-2023
Bentley 2017-2023
Borgward 2017-2023
Buick 2017-2023
Cadillac 2016-2023
Chevrolet 2016-2023
Chrysler 2017-2023
Citroen 2016-2023
Dodge 2017-2023
Ferrari 2016-2023
Fiat 2017-2023
Ford 2017-2023
Genesis 2017-2023
GMC 2016-2023
Harley-Davidson 2019-2023
Holden 2016-2023
Honda 2016-2023
Honda bikes 2018-2023
Hyundai 2015-2023
Infiniti 2020-2023
Jaguar 2017-2023
Jeep 2017-2023
Kia 2015-2023
Land Rover 2017-2023
Lexus 2019-2023
Lincoln 2017-2023
Maserati 2017-2023
Mazda 2018-2023
Mercedes-Benz 2016-2023
MG Hector 2016-2023
Nissan 2017-2023
Opel 2016-2023
Peugeot 2017-2023
Porsche 2017-2023
RAM 2018-2023
Renault 2017-2023
Seat 2016-2023
Skoda 2016-2023
Subaru 2017-2023
Suzuki 2016-2023
Toyota 2016-2023
Vauxhall 2016-2023
Volkswagen 2015-2023

Supported aftermarket head-units
Alpine
Kenwood
Sony
Pioneer
JVC
If you don't see your car in this list, email us for more infos:carlinkit.officialstore@gmail.co

m